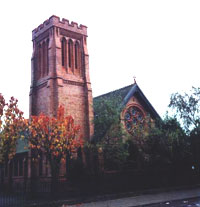 Translate Website
Windows and Statues
The majority of these windows were erected during the period 1929 - 1949, when the late Father Albert Larkin was the Parish Priest.
However, because of the restrictions due to world War II 1939 - 1945, quite a few that would have been put in during these years were installed in 1946, at the same time as some in memory of people from the Parish who had been killed in action.
A few more were added in the 1950's, but as it became unlikely that many of the remaining windows would be stained glass, Father Andrew V. Murdoch suggested in the 1960's that they should be rearranged with the original leaded light windows on either side to give a more balanced effect, and let in more light. This was done, but as a consequence, they are no longer in order of date, except for the windows above the sanctuary.
View a tour of Holy Souls Church >>